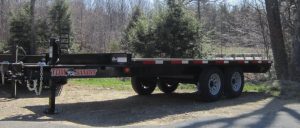 Norris Truck and Trailer specializes in servicing utility trailers that our clients use on a daily basis! From basic maintenance, to replacing or repacking bearings, to tire and rim replacement, to lighting and rewiring; we are able to assist in any issues! Often times customers are unsure of basic maintenance! We will educate you and ensure that your trailer can withstand years of use.
Bring your trailer on by to ensure that you pass all DOT and safety regulations! We offer pre-DOT inspections to ensure that you will always be safe and within regulation!
Not only do we service, we also offer brand new trailers for sale! We work directly with Tow Bandit! Tow Bandit is a Massachusetts based manufacturer. Tow Bandit offers landscape, construction, auto transport and recreational trailers! Tow Bandit strives on being a durable and affordable brand! Stop on in and see what we have in stock! Not seeing what you need? We can custom order a trailer that fits your needs!
If you have any questions about your trailers, please feel free to contact us with any questions!